Application Features
Growing and updated feature list.
Roadmap | Changelog | Support | Docs | Postman Collection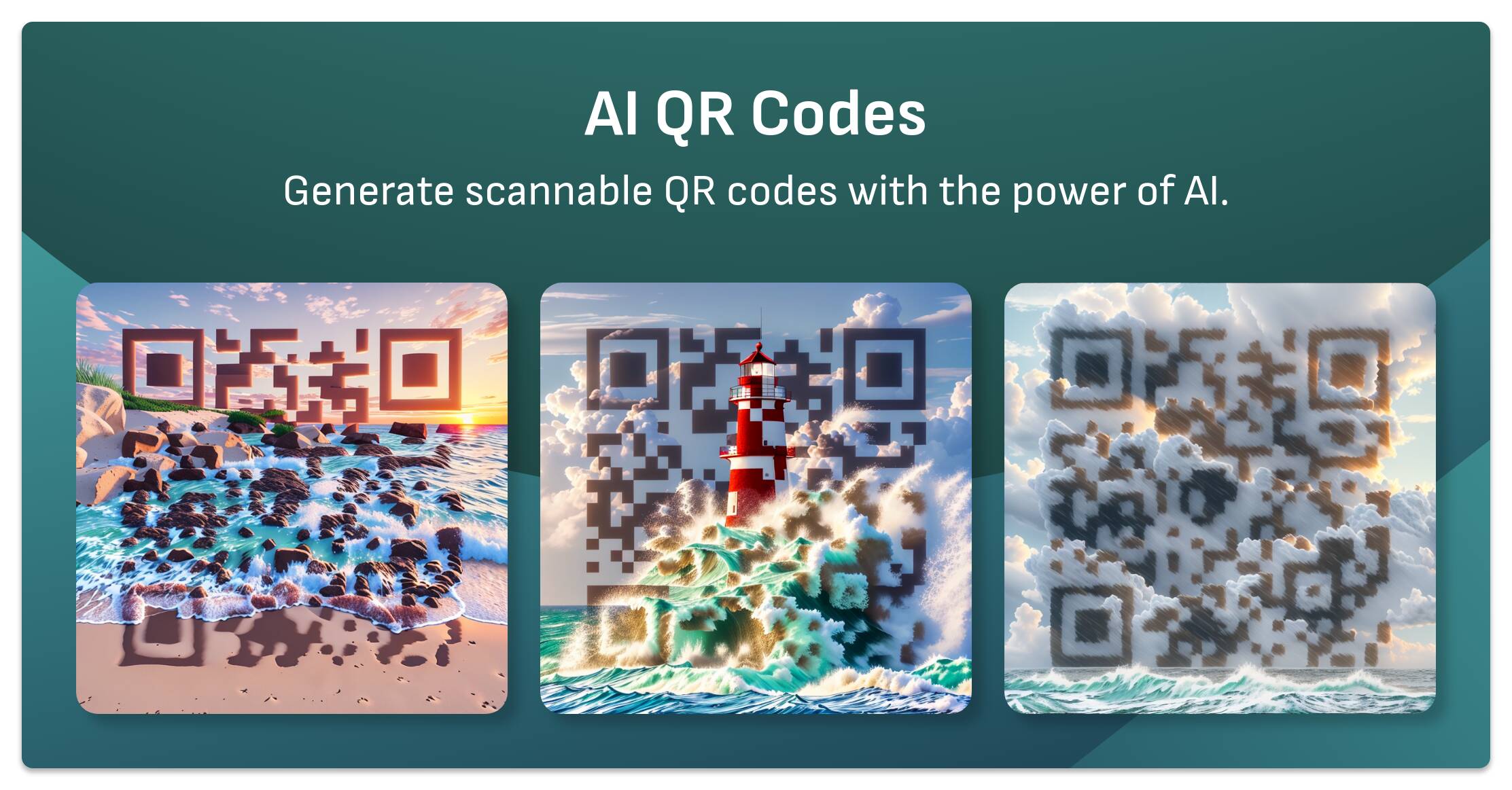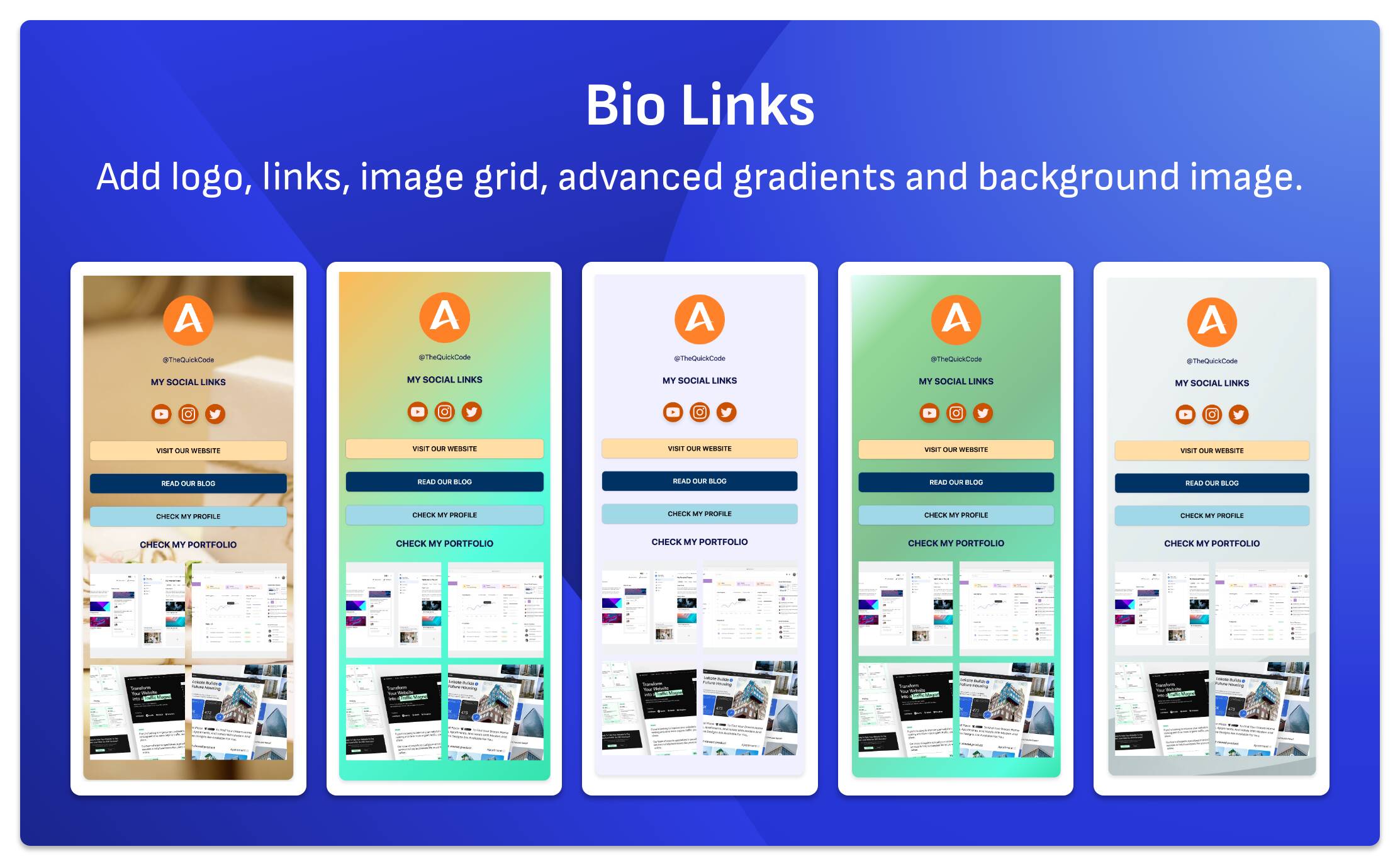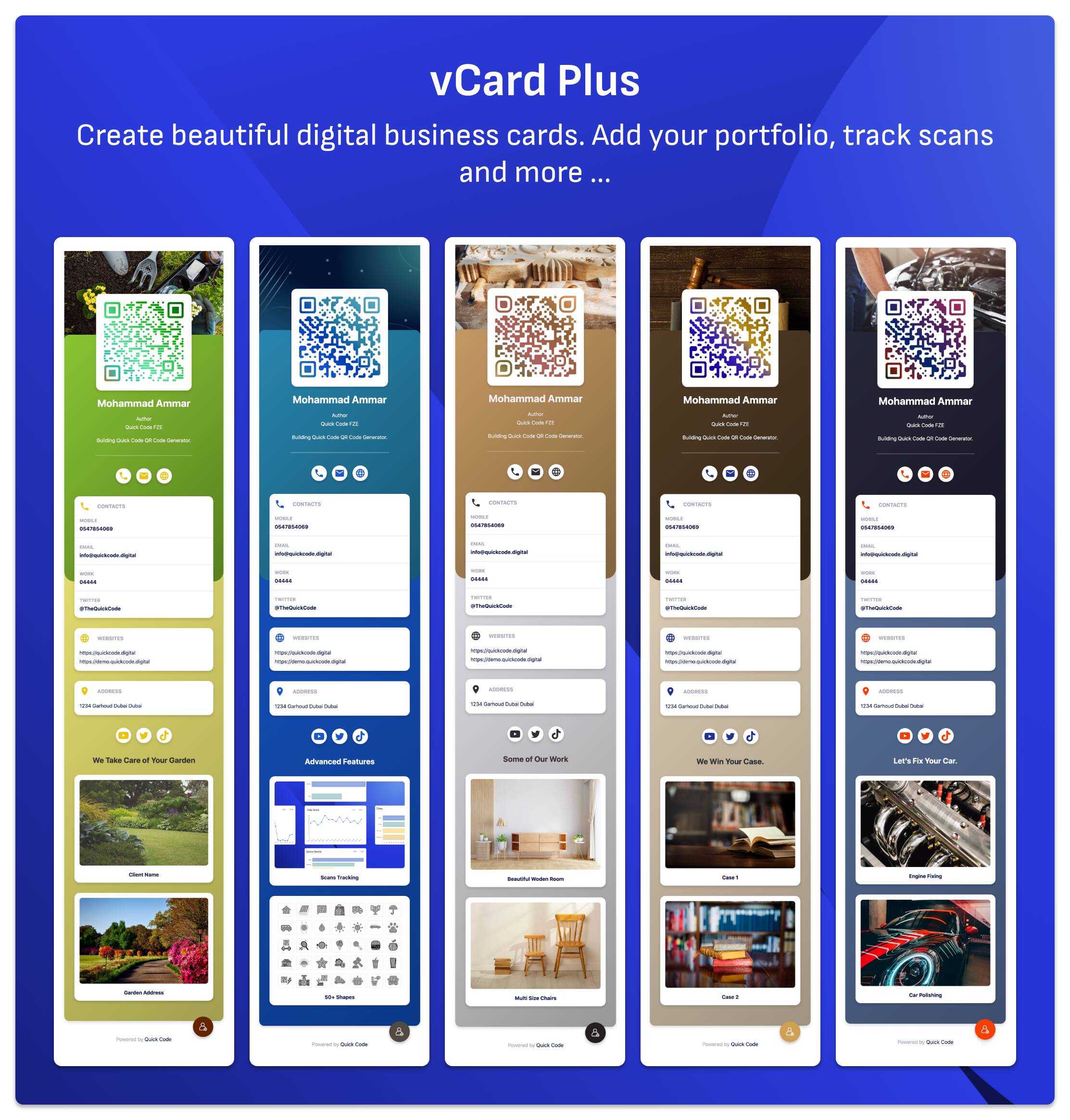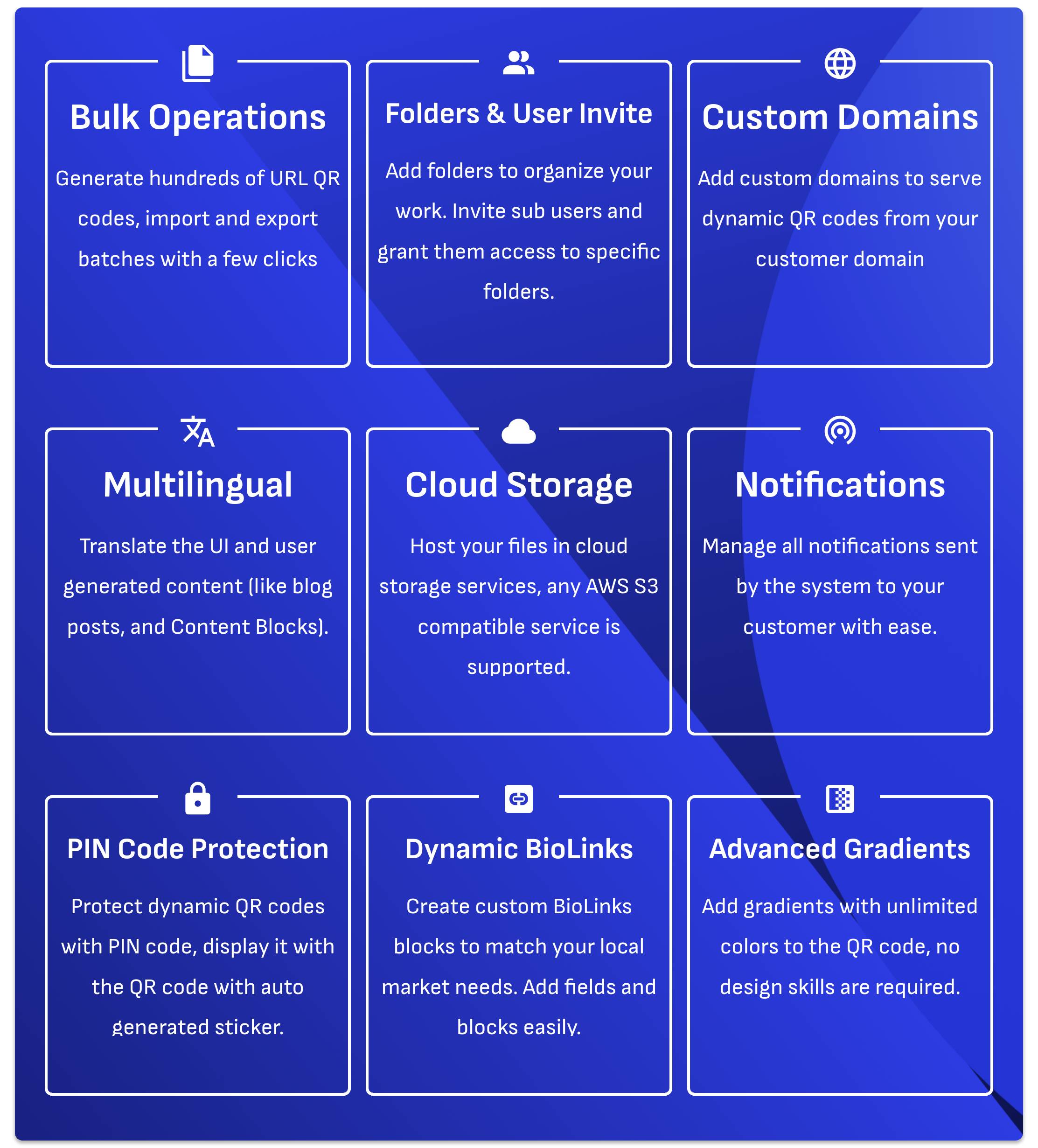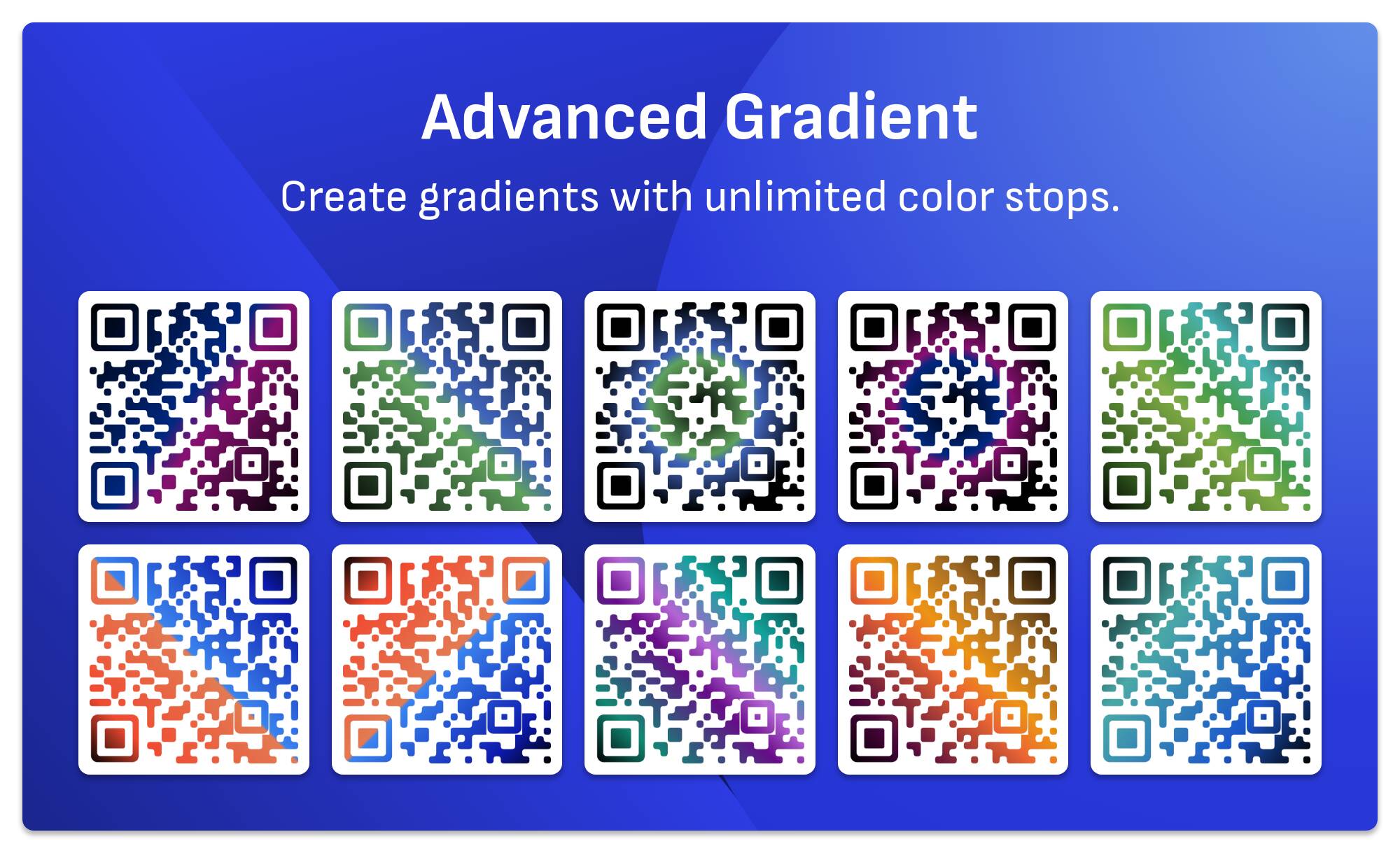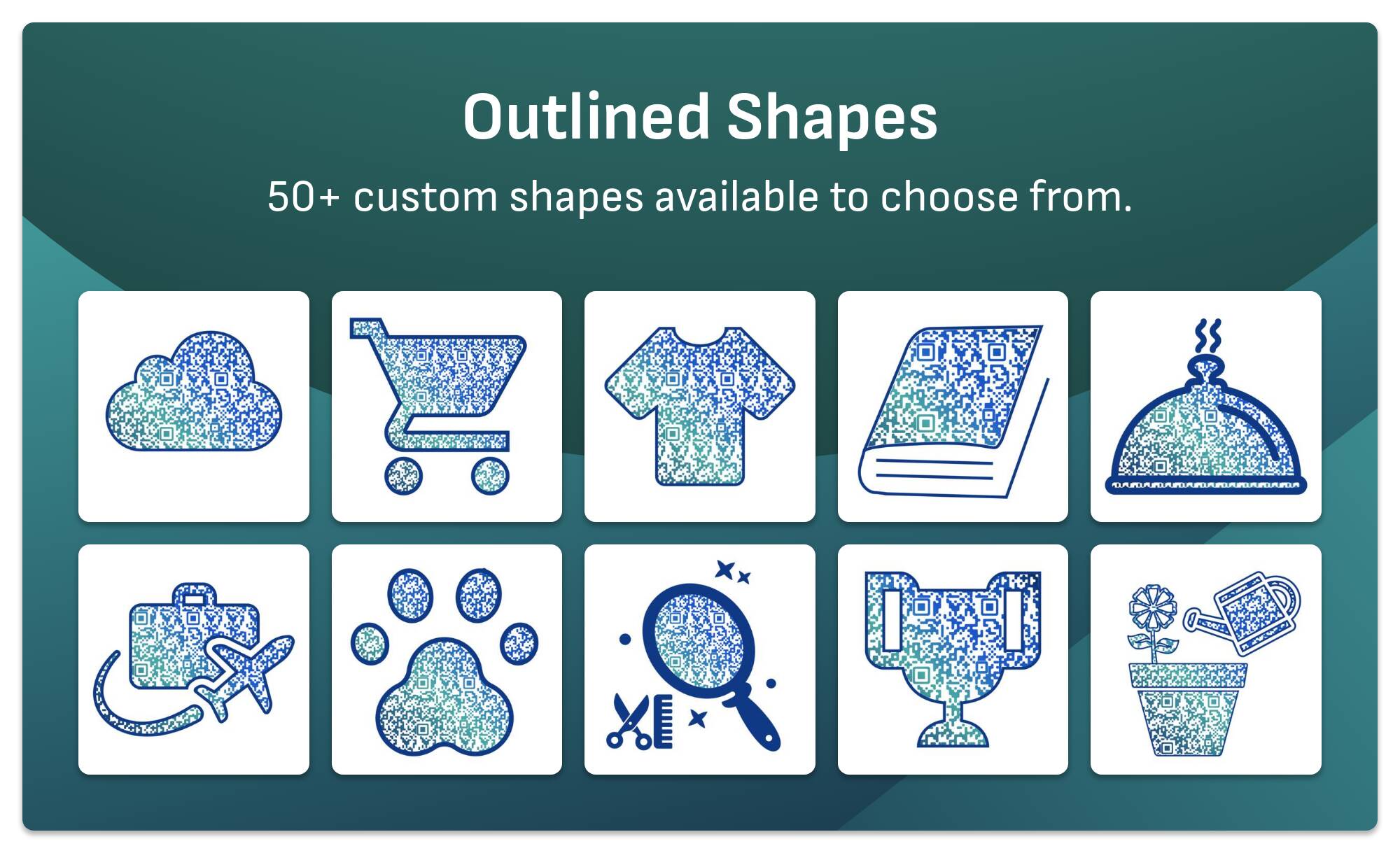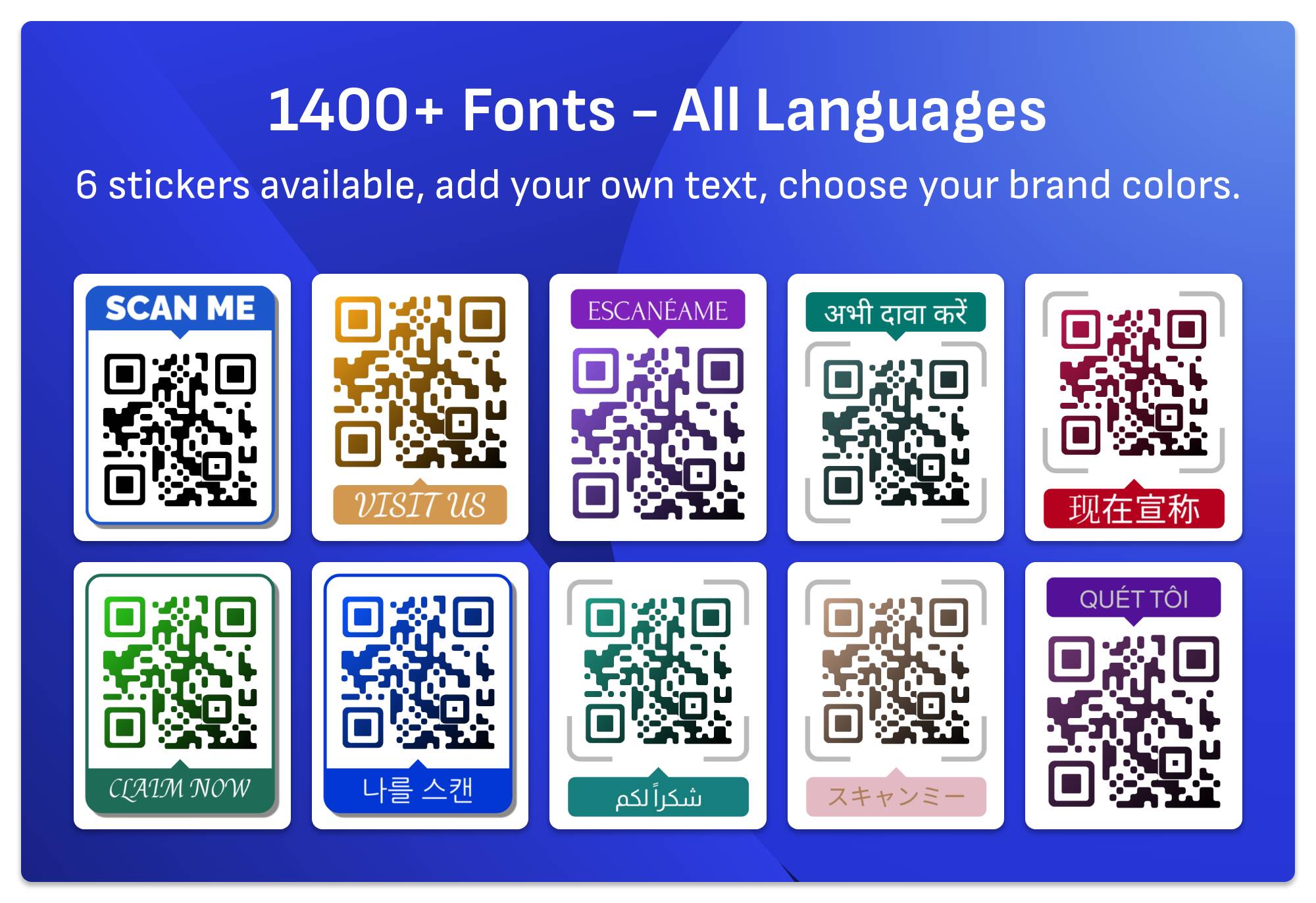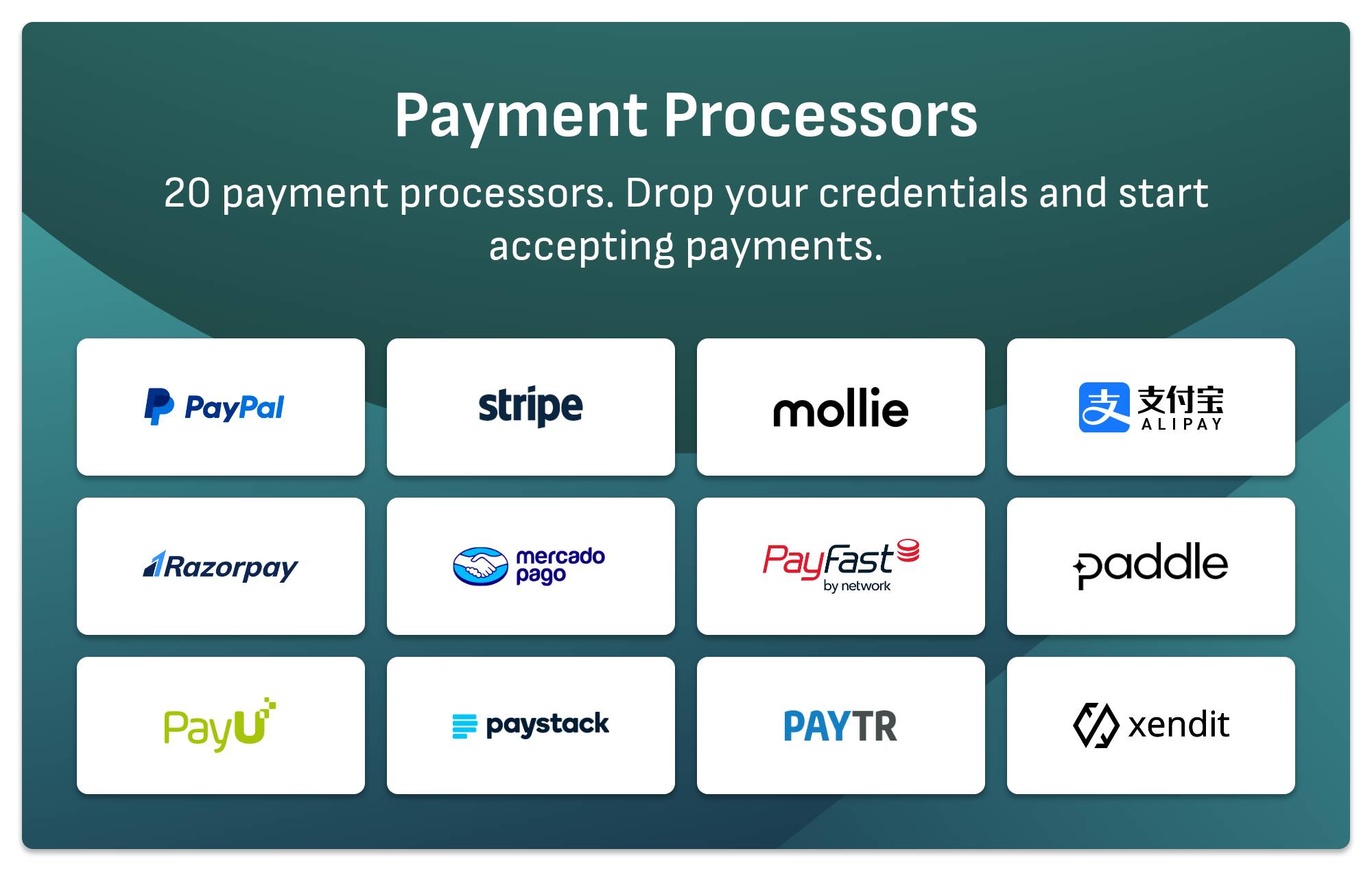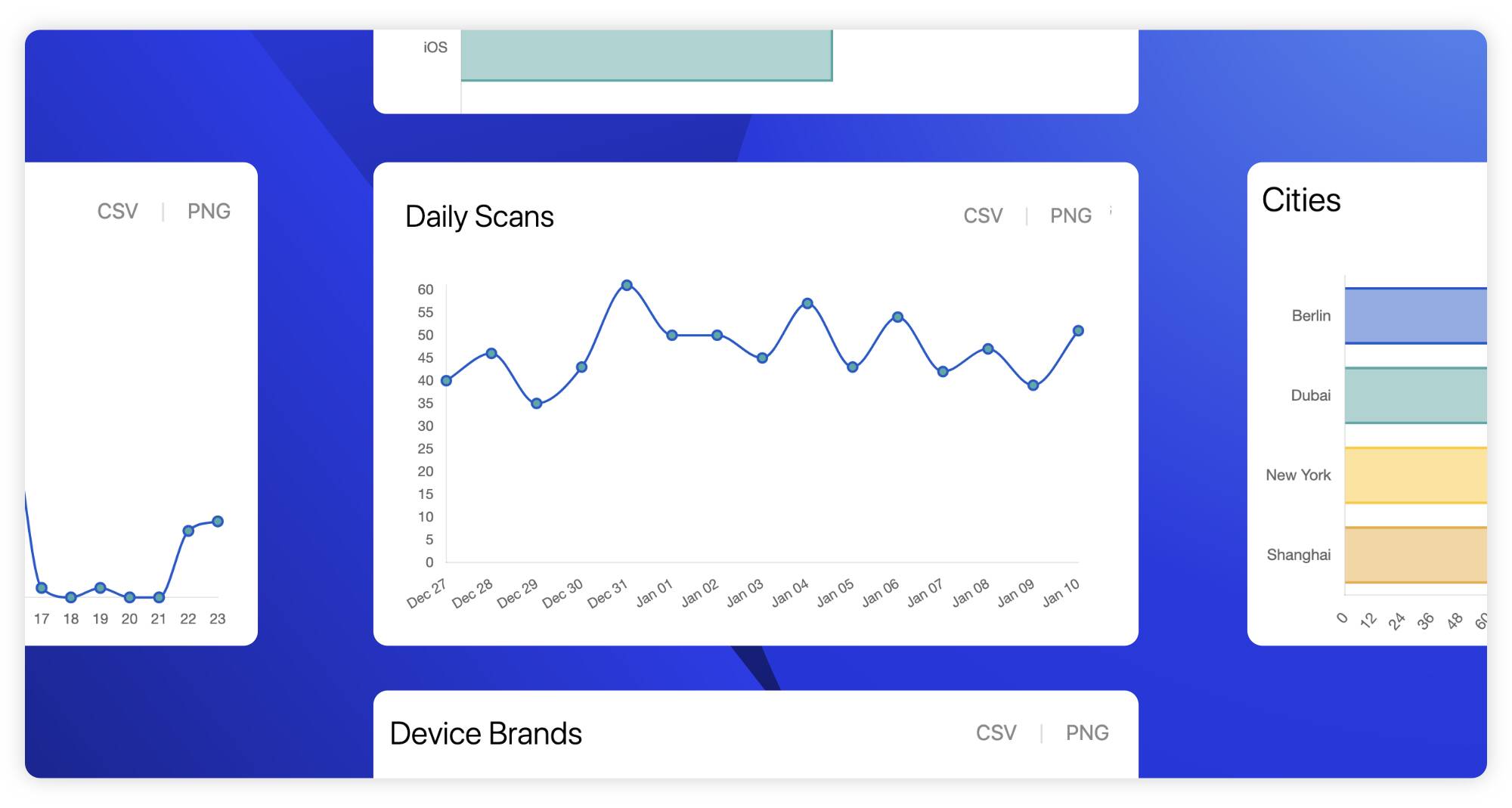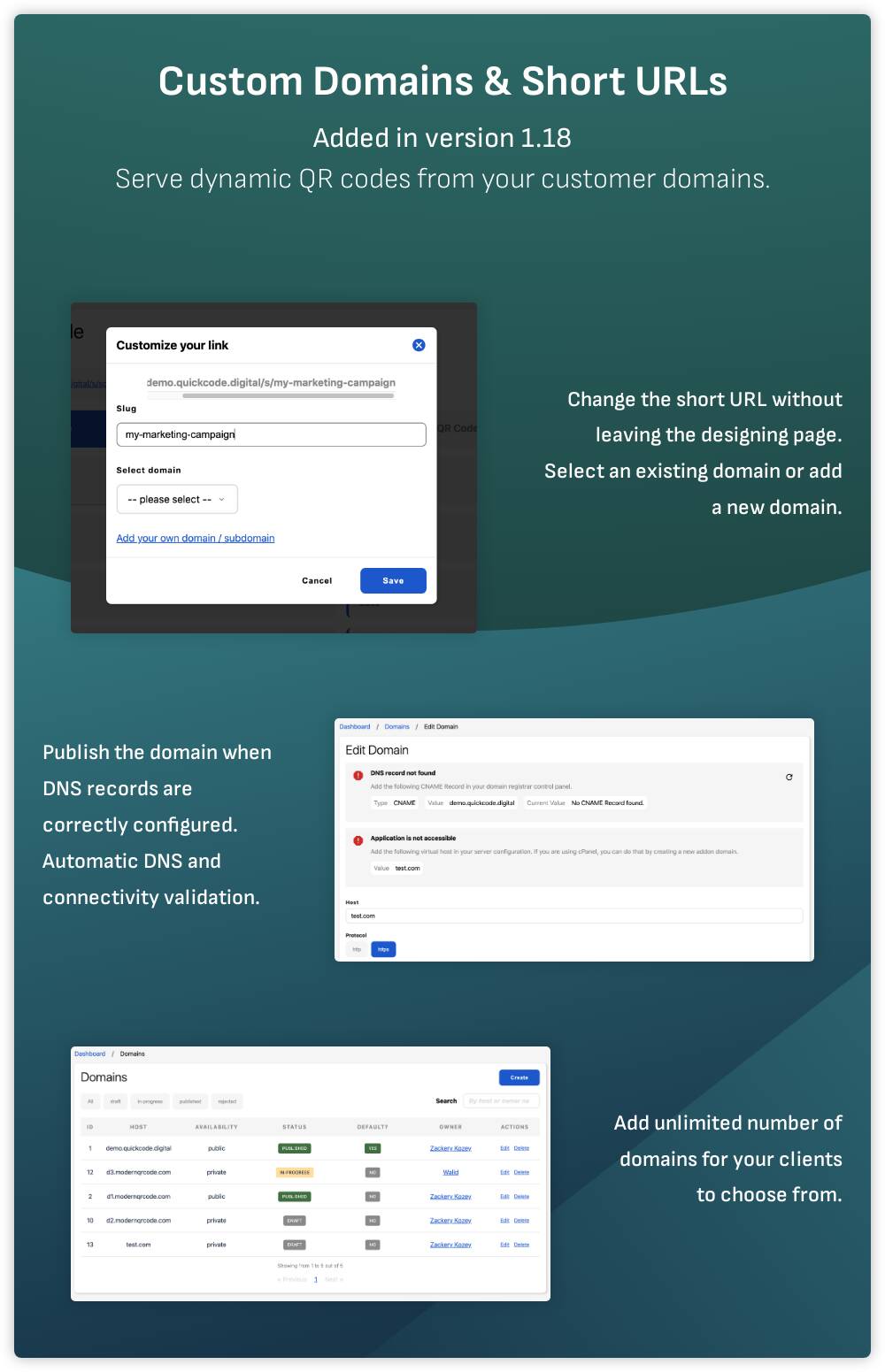 Quick Code is an advanced QR Code generator platform, it can build customized and unique QR Codes. With rich feature set, such as logos, stickers, and outlined shapes. You can build eye catching QR codes, which result in a higher conversion rate.
Dynamic QR Code Types
Dynamic URL Regular and Extended License.
Bio Links Extended License.
Business Profile Extended License.
vCard+ Extended License.
Lead Form Extended License.
Restaurant Menu Extended License.
Product Catalogue Extended License.
Google Review Collector Regular License.
Resume Extended License.
File Upload Extended License.
Event Regular and Extended License.
Static QR Code Types
Static Text / URL.
Email.
SMS.
vCard.
WIFI.
WhatsApp.
FaceTime.
Location with ability to select the application (Google Maps, Waze, or device default app).
Crypto Bitcoin, Ethereum, Bitcoin Cash, Lite Coin, Dash.
PayPal.
Zoom.
Skype.
Brazilian PIX Payments.
Call.
Telegram.
Messanger.
Viber.
All static QR code types are available in both regular and extended license.
Add beautifull stickers with text to QR codes to make it even more appealing
Add text - in your native language - along with your QR code, the text feature supports almost every language. You can choose your preferred font from 1400+ supported fonts.
Quick Code QR Code Generator will help you create beautiful stickers with no designing skills required.
Font feature is built on top of Google fonts, no API key is required to use this feature.
Complex layout languages are supported, like Arabic, Urdu and Farsi, along with Chinese, Japanese, Hindi and all of Latin languages.
Make your QR codes unique with many custom patterns
Instead of building QR codes with the traditional square pattern, you can choose one of many available patterns and finder shapes. Quick Code QR Code Generator has the following patterns:
15 Custom patterns.
9 Finder shapes.
8 Finder dot shapes.
Outlined shapes
Outlined shapes is a special technique that allows us to fill dummy data around your QR code. Choose the right shape that match your business category, and start creating unique QR codes that reflect your business.
Quick Code QR Code Generator available shapes are:
Circle
Cloud
Shopping Cart
Gift
Cup
T-Shirt
Home
Book
Message
Bag
Truck
Trophy
Umbrella
Van
Watch
Water
Bulb
Sun
Car
Pet
GYM
Salon
Food
Ice Cream
Search
Burger
Apple
Barn
Sun Rise
Star
Realtor
Legal
Juice
Water Glass
Electrician
Plumber
Builder
Home Mover
Cooking
Gardening
Furniture
Mobile
Restaurant
Travel
Dentist
Golf
Pizza
Locksmith
Bakery
Painter
Pest
Teddy
Boot
Shield
Image Fill
Exclusively available with Quick Code QR Code Generator, this feature allows you to fill your QR Code with your custom art instead of solid color or gradient fill. QR code pattern would be masked with your image, to create even more unique experience.
Gradient Fill
Advanced gradient, you can add as many colors as you want, with easy to use user interface. This can be done only with Quick Code QR Code Generator.
Supports multiple colors (not just start and end color).
Can delete and add color as you go.
Each color opacity can be changed.
Draggable UI builder.
QR Code with Logo
Add your own logo or choose from many predefined logos (28 preset logos available).
You can resize, rotate or move your logo. If your logo is transparent, you can add rounded or square background to it. You can change the backround color of the logo as well right from within the user interface of Quick Code QR Code Generator.
Custom Domains & URL Shortening
Allows you to provide your customers with many custom domains to server dynamic QR codes from. Your customers can submit their own domains also.
Customers can change the URL of the dynamic QR codes generated by Quick Code QR Code Generator, they can choose the domain as well. All with a simple 2 clicks.
For more details, please have a look at Custom Domains Feature Docs.
You can set a default QR code to be shown when opening the root URL of any custom domain anstead of showing your script homepage.
Content Management
Quick Code QR Code Generator comes with many modules to help you customize your content. Blog posts and dynamic pages are server side rendered to help you with SEO.
You can create unlimited pages right from within your admin panel, and keep your pages intact even after software update.
It is possible to edit the meta description for every page / blog post which is essential for SEO.
Translation Support
Once you install Quick Code QR Code Generator, you will get many languages added automatically for you. You can add your own translation by modifiying a single json file.
Auto translation feature is built using Google translation API. Instead of writing all translation lines yourself, you can add your language and auto translate it with a single click.
These languages are added by default:
Romanian
Chinese Simplified
Japanese
Norwegian
Turkish
Swedish
Vietnamese
Italian
Hindi
German
French
Spanish
Portuguese
English (Default - read only).
Integrate with your own app with built-in API
Every single function of the application is built using its API, however, the API documentation is work in progress and is available on Demo Api Docs.
If you feel this feature is essential for you, leave us a comment so we can prioritize our work on the docs.
Easy to use UI / UX
Quick Code QR Code Generator is built on multiple steps while creating QR codes, to make the process easier, every step is focused on a single task.
The UI is carefully crafted from ground up, we did not build it based on any template, dashboard pages and even data tables are mobile first, and work very well on desktops and on large screens (e.g. iMac).
Most of the advanced design features are available on the home page, so guest users can test out all the features before signing up.
Start your own business with Quick Code
Quick Code QR Code Generator is a SaaS script, so it supports user registration and user managment (sign up, reset password, login).
Available Payment Processors (Regular License)
PayPal subscription based integration, automatic webhook registration.
Stripe subscription based integration, automatic webhook registration.
PayU international (payu.com), one time payment integration.
Paddle subscription based integration.
RazorPay subscription and one time payments integration.
Mercado Pago one time payment integration.
Pay TR one time payment integration - not tested, because we do not have test keys.
PayFast one time payment integration.
Xendit one time payment integration.
Mollie one time payment integration.
PayStack one time payment integration.
AliPay - China one time payment integration - not tested, becase we do not have test keys.
YooKassa one time payment integration - not tested, becase we do not have test keys.
Offline Payment Integration receive payment receipts and approve transactions manually.
Folders and User Invites (Extended License Only)
Create folders to organize your workflow, move QR codes between folders and allow your clients to invite their team members and give them access to a specific folder only. This is to make the daily use of Quick Code QR Code Generator easier.
Other Features
Dynamic sitemap.
Change the script colors and add your own branding to it.
Advanced favicon configuration available to enable your website to be added to the client device home screen in a beatiful way.
Built-in captcha (there is no need to obtain 3rd party keys to use captcha).
Disable or enable the frontend, usefull if you want to use your own theme or CMS (e.g. Wordpress) and keep the script for dashboard use only. Check out this guide.
Disable or enable new user registrations.
Menu builder: add your customer portal link or your company contact links to the clients dashboard sidebar.
Each frontend generator has it's own editable page which could help you with SEO. Links can be translated from the System Settings > Pages tab.
Custom Codes: you can add custom codes to be served in multiple places like header, footer, between blog posts in blog sidebar, even above the dashboard area content. This allows you to serve ads in dashboard area, as well as the frontend.
Custom gradient builder.
Custom color picker that can generates new color palette with a single click.
Auth0 integration: which would allow you to use social logins with the software.
Important Note About SVG Files
We are gradually adding features to be available in the SVG exported file. Currently all outlined shapes (50+ shapes) are available in SVG format. See the point in our roadmap.
We are happy to hear your thoughts
We are open to feature requests and user feedback. We listen carefully to our customers words, if you have any feature you would like to see added, please let us know, we will be very happy to hear it!
Support and docs
For bug reports and feature requests please use our customer portal.
For documentation and user guides please refer to: https://docs.quickcode.digital
Thank you!
If you have reached this far reading about Quick Code, we would like to say Thank you! And we will be looking forward to having you one of our customers ;)
Demo
Admin User
Demo URL: https://demo.quickcode.digital/account/login
Regular User
Demo URL: https://demo.quickcode.digital/account/login
Updates publishing
Starting from v1.15 we are releasing a new version every week once. We believe this would allow our customers enough time to install and test out new features.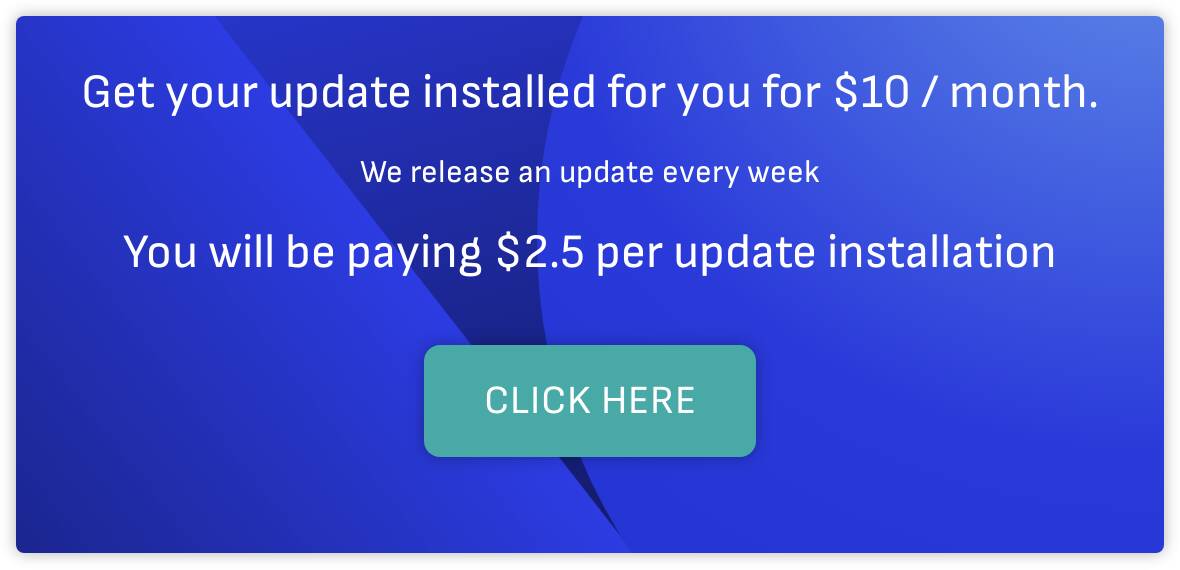 Change log
2023-12-03 v2.41
Bugfix: Login link in the email verification page doesnt work.
Bugfix: Cannot delete folders.
Bugfix: lead form not saving settings.
2023-11-27 v2.40
Added cache control header in dynamically served files to improve the performance of serving files.
Protocol is now optional in URL QR code, if there is no protocol specified it will default to http.
Bugfix: PayPal QR Code creation fail when type is not selected.
2023-11-19 v2.39
Added upload file size limit field in plan configuration and in the pricing table in the frontend.
Added number of AI generations in the pricing table in the home page.
Removed deprecated popular field from pricing form.
Bugfix: fresh installation fail due to the configuration cache.
Hide the default website header and footer in social login redirect page when custom frontend is used.
2023-11-14 v2.38.4
Critical Bugfix: all payment processors are disabled after the latest update.
2023-11-13 v2.38.3
Watch the update video HERE.
Added new Bio Links block: File Block.
Added SMTP configuration in System > Settings > Email (SMTP).
Prevent direct access to /public/ folder with a new rule introduced in /public/.htaccess file
Performance Improvement: Added database configuration cache layer which results in 3x to 5x faster server response time.